The Internet of Things (IoT) is a term used to describe the large number of devices that are connected with each other and with the Internet. This interconnectedness is accelerating rapidly to the point that within 2 years there will be over 20 Billion devices connected to the Internet.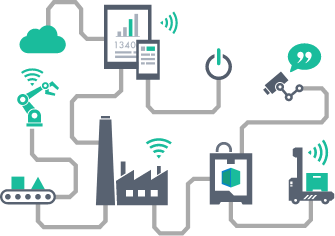 This interconnectedness is already leveraged across all industries – manufacturing, agriculture, public services, utilities and retail, in order to access data in real time and use that data to reduce costs or improve quality.
IoT enabled devices will be capable of being sensed and controlled remotely, producing an integration between computers and our environment / the physical world across all verticals, private, public and commercial.
The Internet of Things combined with cloud technology will transform our world over the next decade based on current momentum and all projections, with the basic underlying premise of IoT being to "connect the unconnected".
Enabling these newly connected devices to communicate and interact with people and or other devices will change the technical, commercial and personal landscape.
Some commonly referenced projects:
By the end of 2020 the estimates are between 20-25 billion devices will be connected via IoT (from 900 Million in 2009), with a total spend estimated over $3 trillion.
By 2025 spending estimates $4 – $11 trillion.
By 2029 it is expected that all electronic devices and "Things" will be internet enabled by default from the factory, where all devices are smart and IoT is the norm.
What does this mean for my business?
New customer experiences, the ability to compete against new competitors and newly found revenue opportunities are all made possible through IoT technology. In other words, the possibilities are endless.
Greenfinch Technology can help you leverage the benefits of IoT and understand what this means within the context of your business. Our expertise in building custom platforms, business applications and complete vertical solutions designed and built from start to finish will ensure you get the most out of your IoT investment. Privacy, security and scalability remain at the core of each of our projects.
The IoT phenomenon has the potential to be either disruptive or supportive when it comes to business strategy. Accessing real-time device data from the field and using it to inform business decisions has significant implications for pricing model and relationship with your customers.
IoT represents technological transformation, which has been coined the "4th industrial revolution" – with the end goal of making objects/devices smarter – enabling advanced applications, and improvements in efficiency, productivity, accuracy, and automation, real time information combined with context and cloud analytics.
The added value will express itself in terms of cost saving, improved processes, new business and revenue models, and more efficient services and enhanced relationships offered to customers.